Tania specialises in translating her textural photographs into timeless designs, interpreting the beauty of nature in to intricately hand knotted wool and silk rugs that will last for generations. Every rug is made to order and Tania personally works on every design and weaving graph herself to ensure each one, regardless of size or colour, is an individual piece of art.


Every rug starts with a moment that inspires her - the way light creates shadows and reflections and the microscopic details found in nature. Capturing these fleeting moments in time, the patterns that constantly form and shift around us, inspires Tania endlessly.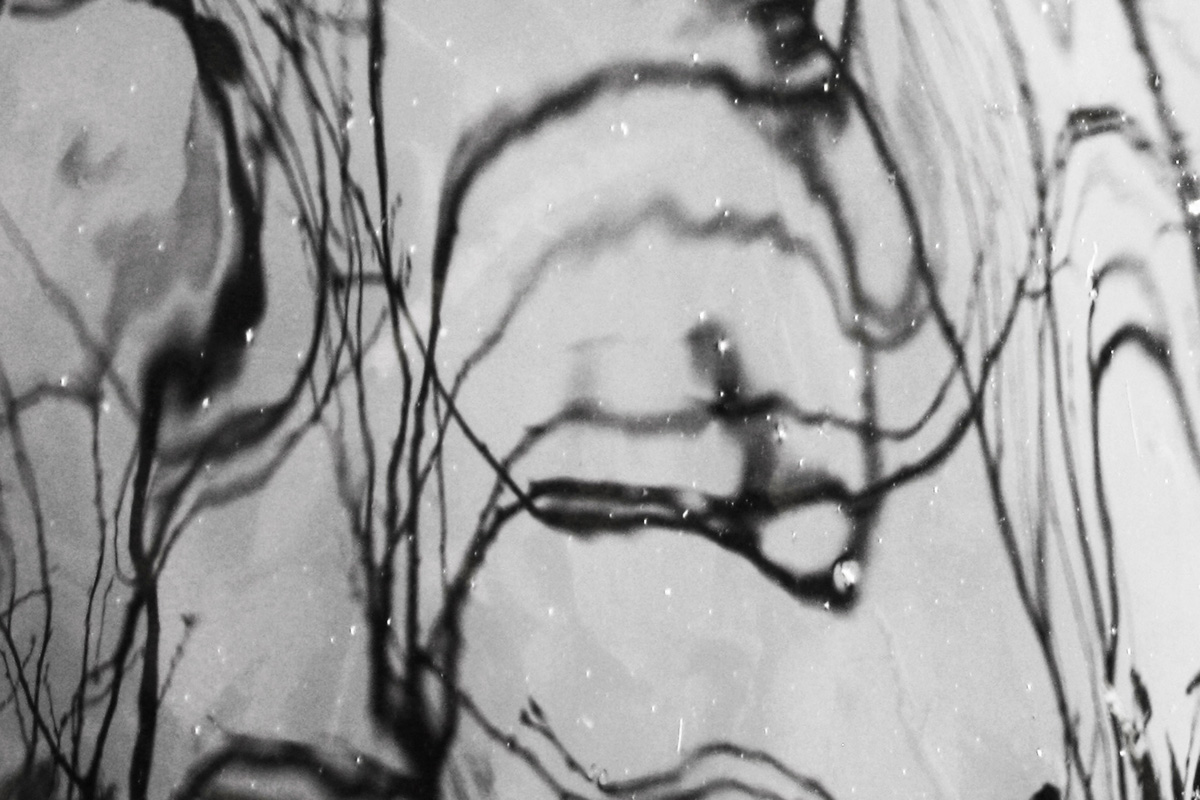 the patterns formed by water's movement are the inspiration for 'Waterlines'
A photo contains millions of shades of colour. To translate the photo into a design that can be produced means reducing the colours to as few as possible. It is this challenge, of creating a design that can be woven while retaining the intricacy and feel of the original inspiration, that Tania loves. With a Masters in weaving and years of experience as a textile designer, she draws on her technical knowledge of weave and her ability to use specific textile software to interpret her ideas.

Having finalized the design, she selects the colours and fibres. Working only with Himalayan wool and Chinese silk, varying proportions of each fibre are specified depending on the design and the colours are matched to cut wool poms. As each knot is made up of three fibres, one knot can contain a mix of up to three shades of colour, as well as different mixes of wool and silk, allowing for detailed gradation of both colour and texture.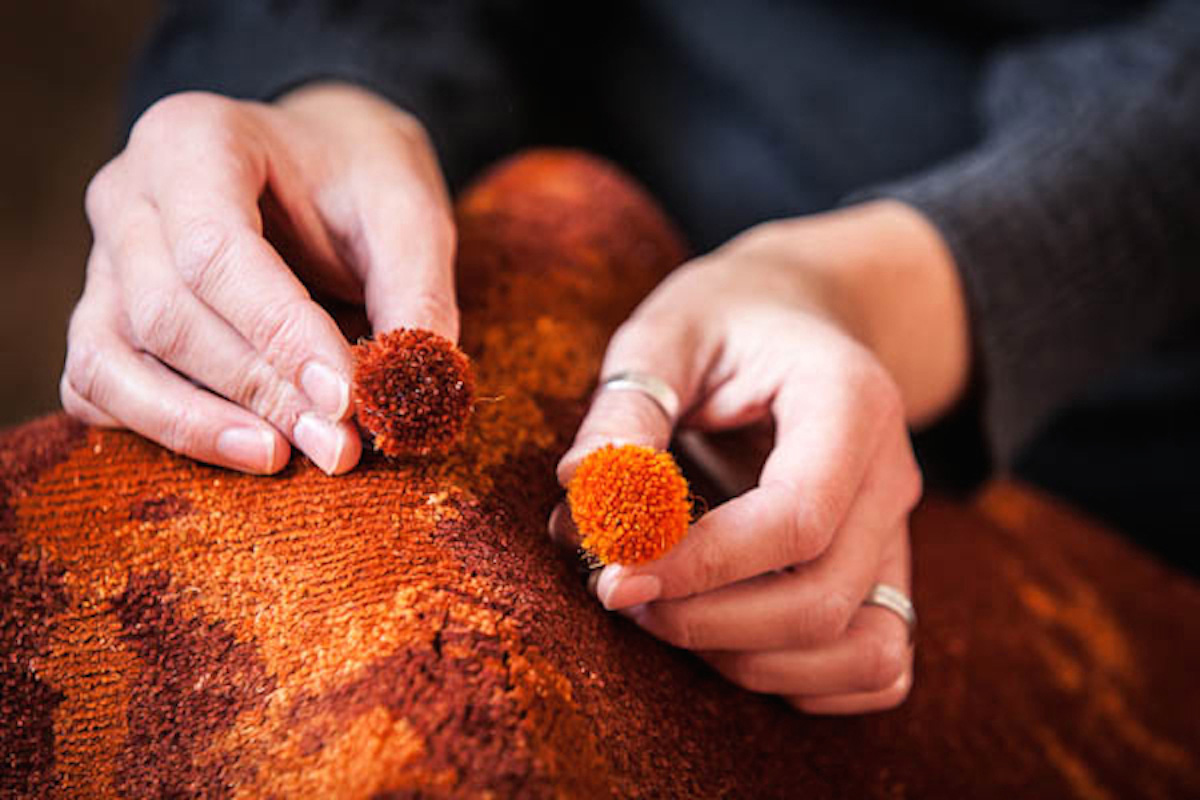 Once the design is ready, Tania uses rug software to create the graph. The settings for the graph are determined by the knot count. For the most intricate designs, 200 knots are specified, meaning there are approximately 200 knots per square inch. With the slightly less complex designs, 150 or 100 knot counts can be used.

Most of Tania's designs are very detailed, often using close tonal colours, and as such are extremely difficult to weave. Every square on the graph paper represents a knot that the weavers then produce by hand, knot by knot, requiring immense skill and patience.

Each Tania Johnson Design rug is made to order. Designs can be produced in different knot counts, fibres, pile heights and sizes. Lead time from order to delivery can take 3-9 months depending on the size, knot count and design complexity.


The majority of our projects are completely bespoke for both size and colour. We can create any size or shape and work to any brief, whether it is matching to a fabric or piece of art or picking out poms with clients at their homes.

As a starting point, we can quickly create a CAD render of any design in different colours to give our clients a visual idea. From here, once a more definite colour palette is specified, we can have the yarns dyed in the correct wool/silk proportions.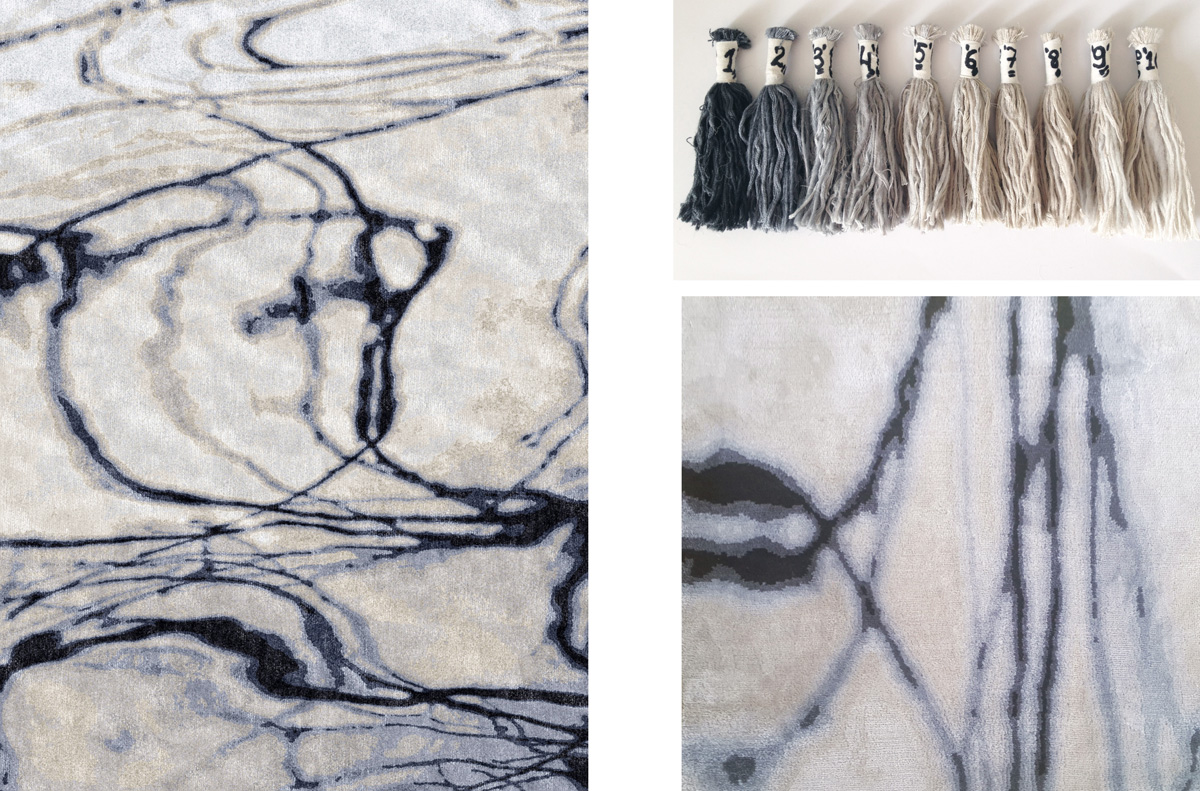 custom Waterlines rug CAD render
custom dyed yarns and 1' sample
custom Waterlines CAD and yarns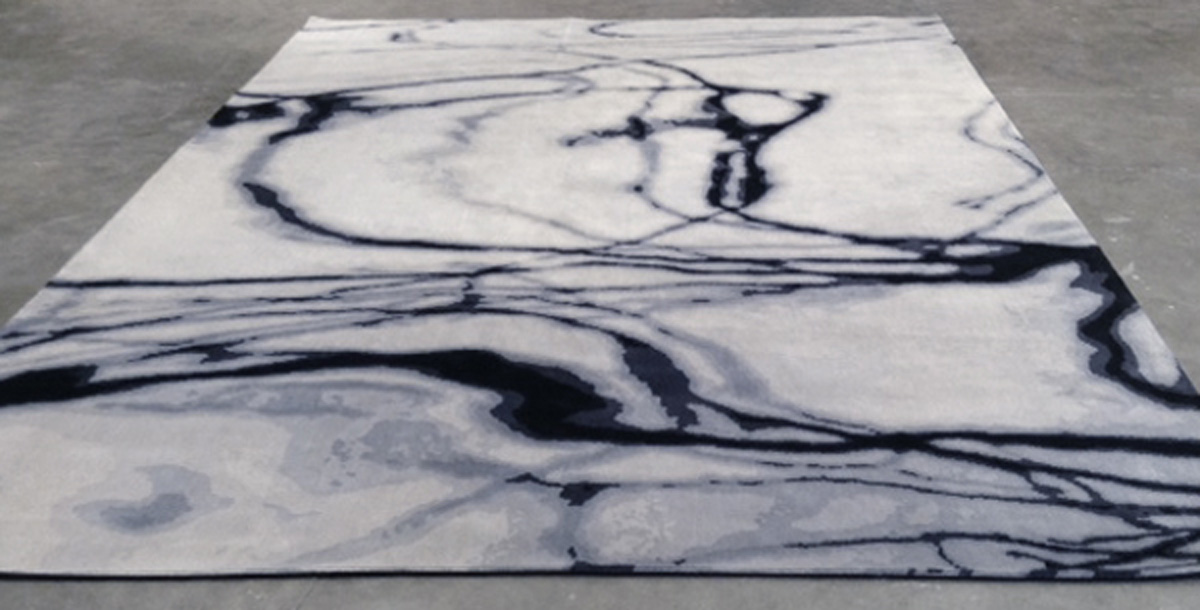 finished custom Waterlines rug
All of our rugs are hand knotted in Nepal and producing them is a painstaking process. Tania works closely with her manufacturer, having worked with the same facility since starting her business, and visits Kathmandu regularly where she is constantly amazed by the incredible skill involved at every stage of production.

Stages of the manufacturing process:
The raw Himalayan wool we use is first carded to break up and separate each fibre, making sure no fibre is mixed with another and removing any dirt. Once carded, the wool is ready to be spun. This is done by hand on a spinning wheel.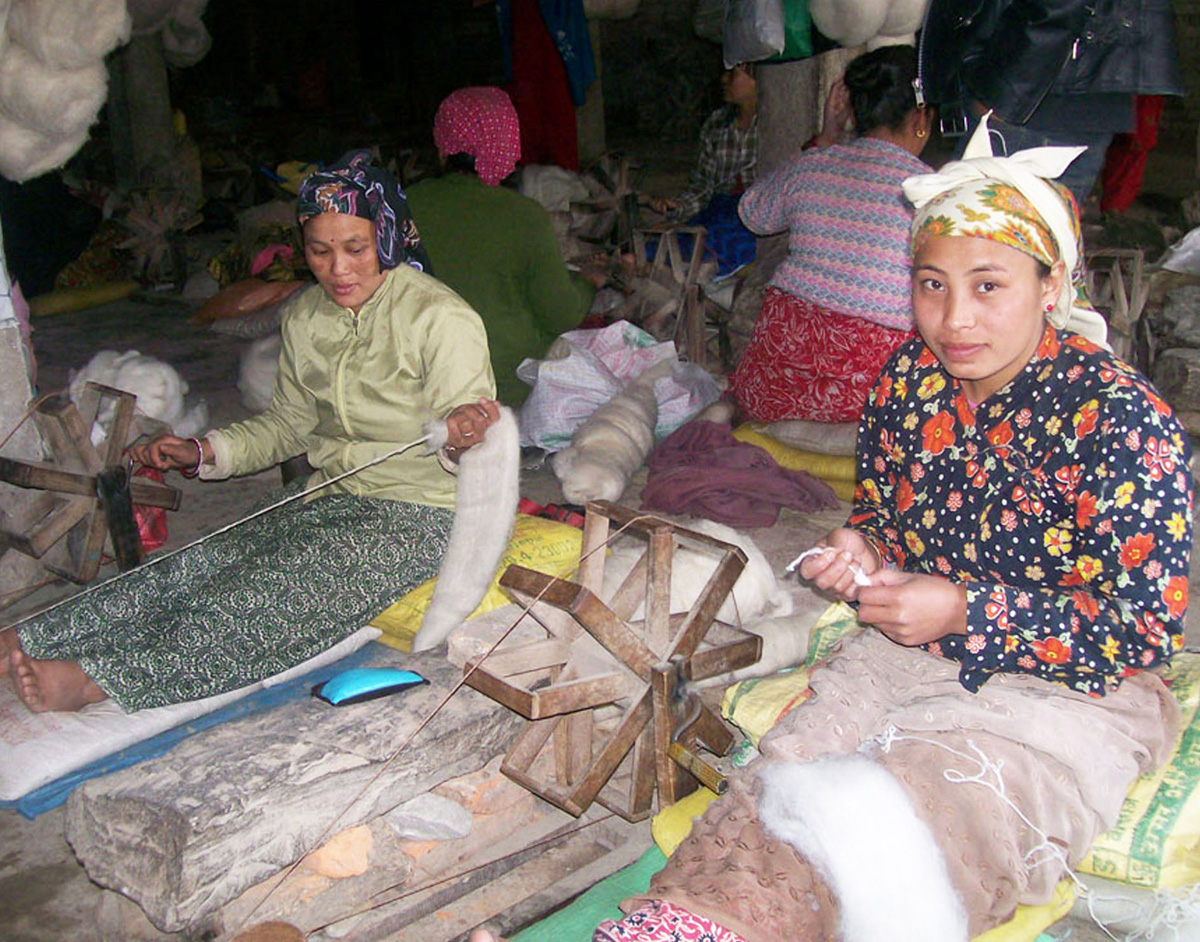 Once the yarn has been spun, it needs to be dyed ready for weaving. Matching colours is a highly skilled and vital part of the hand knotting process, particularly as almost all of our rugs are custom coloured to work in very specific interiors.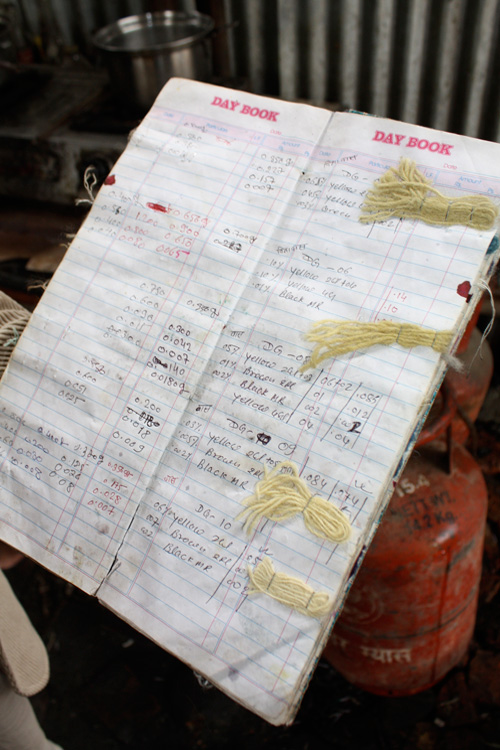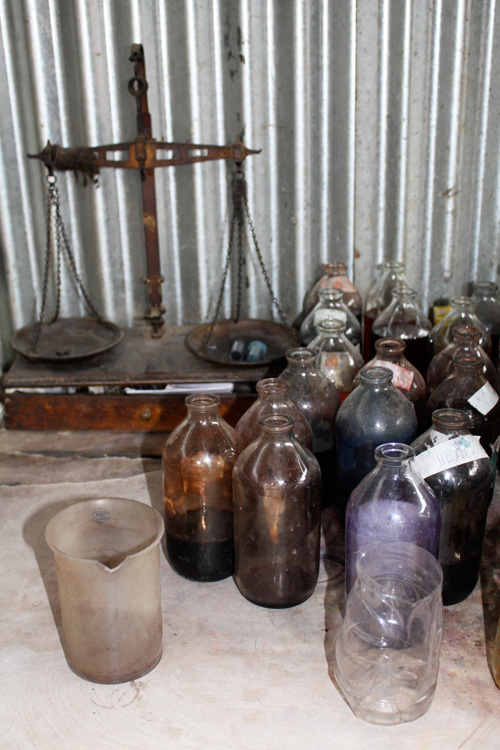 After dyeing, the yarns lie out in the sun to dry before being rolled into balls for weaving.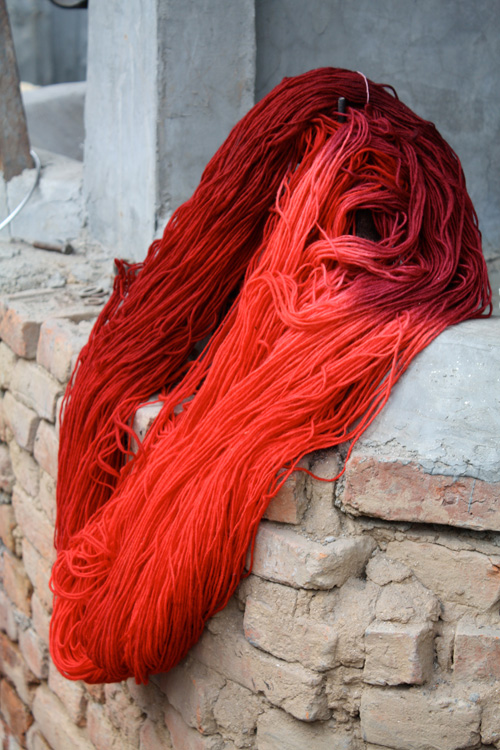 Once the yarns are ready, the weaving process can begin. Preparing the looms for weaving can take several days. In some cases, for very large rugs such as a bespoke 17' x 39' rug we produced in our Frosted Leaf design, completely custom looms need to be built. The graph is then printed out and attached to the loom. The size of the rug determines how many weavers need to work on it. For the custom Frosted Leaf, for example, 11 weavers sat side by side weaving in unison. The skill and patience required, particularly for our intricately challenging designs, is incredible.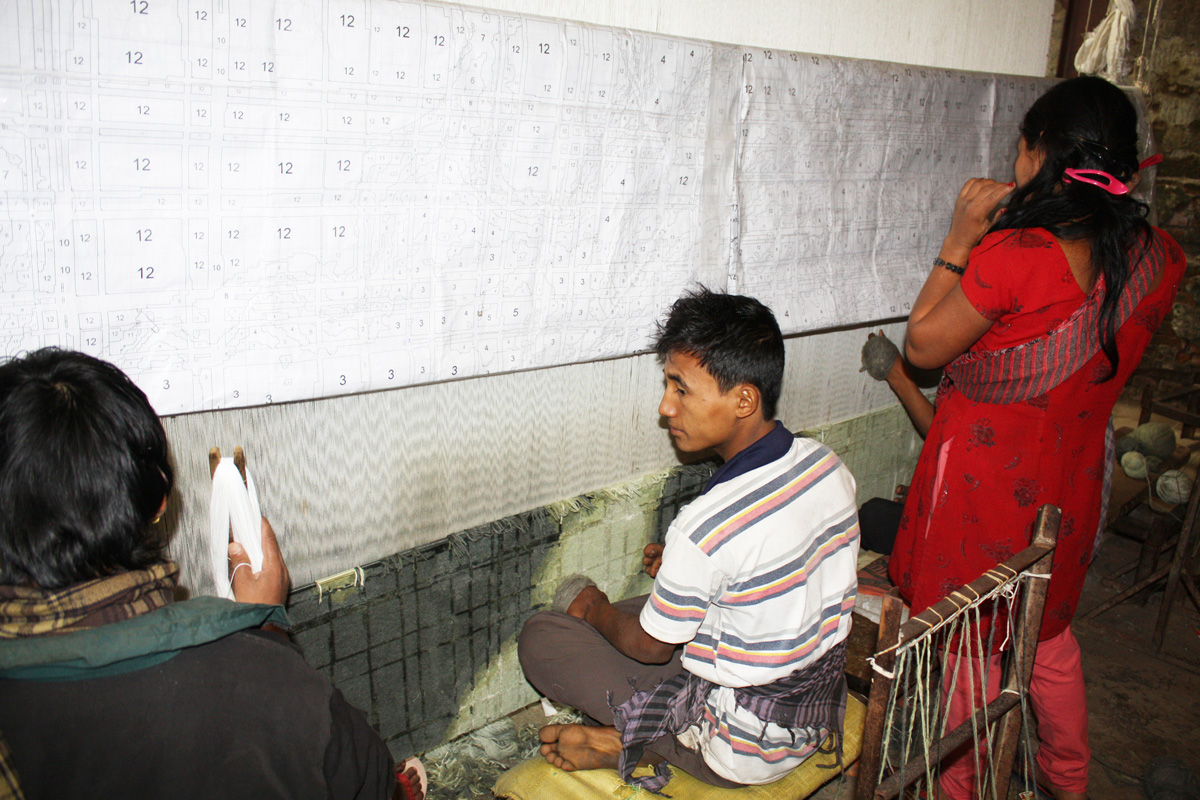 Once woven, the rug is trimmed before being hand washed and laid out to dry in the sun. Depending on the time of year and how rainy it is, this process in itself can take days.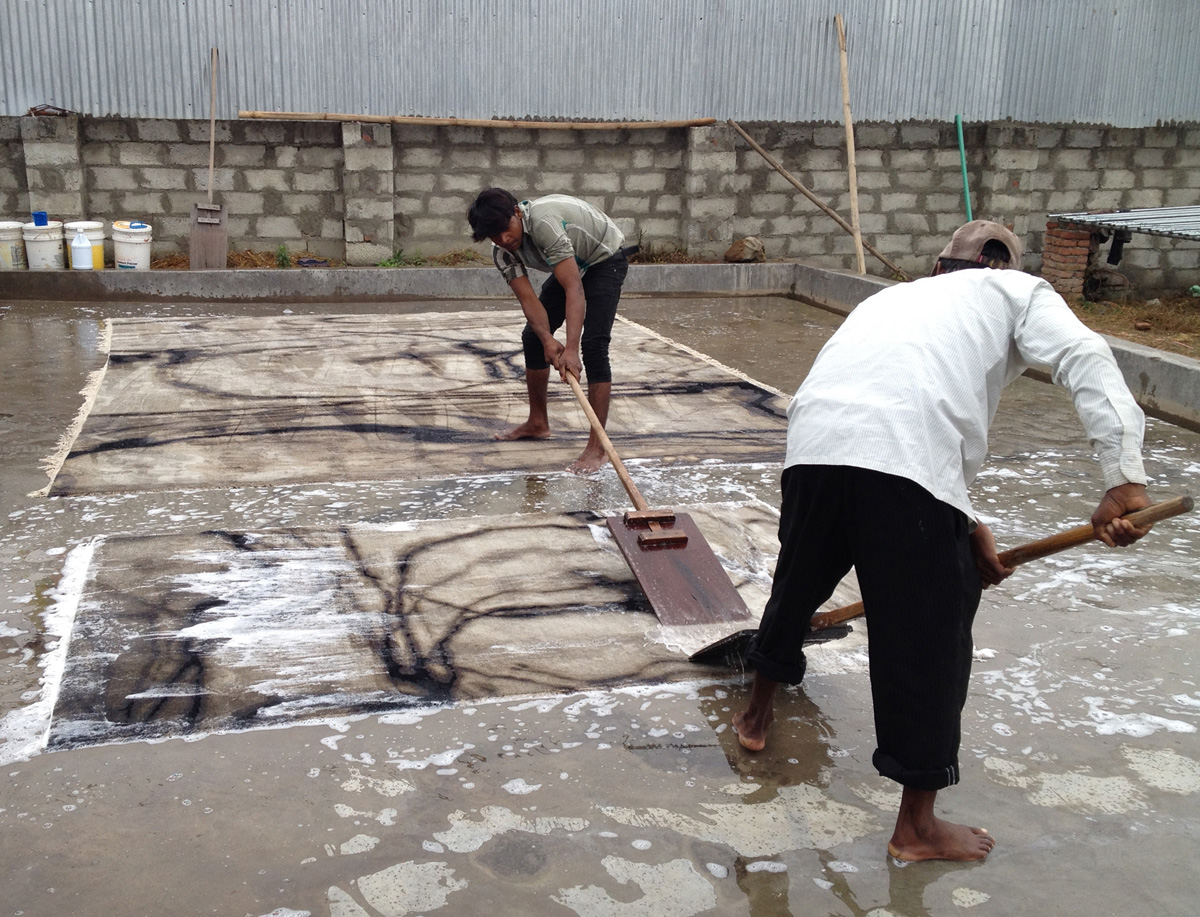 Finally, once the rug has been stretched and is fully dry, it is thoroughly inspected and given a final re-trimming before being rolled and packed for shipping.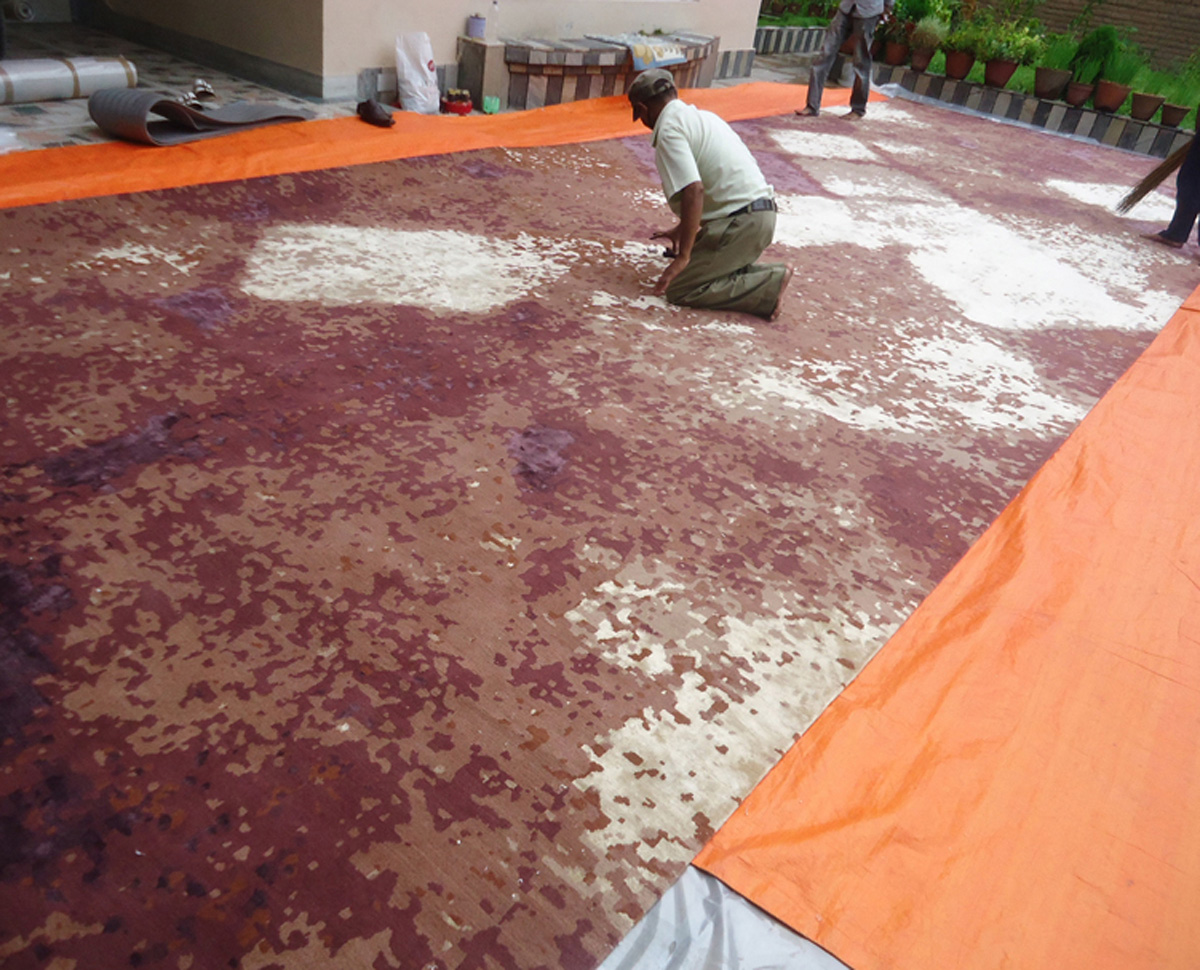 final checking of a custom coloured Velvet Diamonds

Every Tania Johnson Design rug is certified by GoodWeave which aims to eliminate child labour and to improve working conditions for adults. Any carpet with the GoodWeave label means that the rug was made only by adult artisans. In addition the certification programme helps fund educational opportunities for children as well as support and resources for families and weaving communities in South Asia. To find out more about GoodWeave
click here…